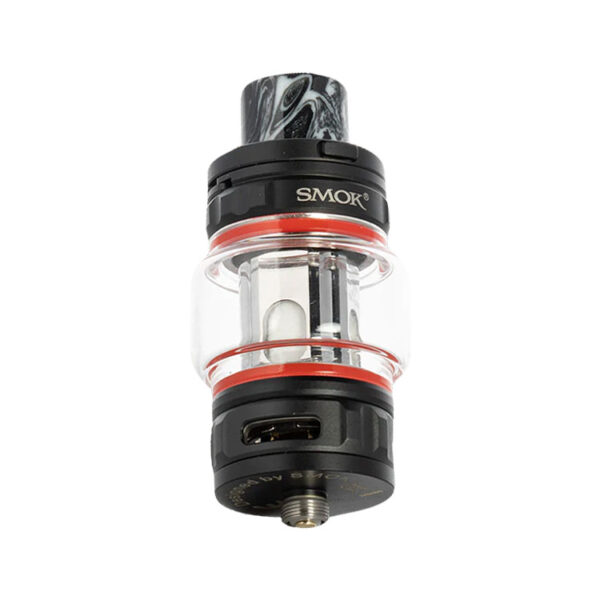 Includes:
TFV18 Tank (7.5ml)
TFV18 Meshed 0.33ohm Coil (Preinstalled)
TFV18 Dual Meshed 0.15ohm Coil
Bulb Glass Tube Replacement
User Manual
Description
SMOK TFV18 Tank announced the return of the popular TFV Tank series and demonstrated an absolutely correct advanced Sub-ohm tank. Its vapor generating capacity and newly designed TFV18 series coil make the TFV18 Tank very suitable for direct to lung vaping. The TFV18 Tank has a diameter of 31.6mm and a raised base to ensure maximum airflow and maximum coil saturation. On the top is a wide-bore resin dripper, which has anti-scaling and odorless performance, and can accurately capture streams of vapor, providing a comfortable vaping experience. SMOK TFV18 Tank is equipped with a bubble glass with a maximum capacity of 7.5ml (the storage capacity varies according to the different coils installed inside). It can be easily filled from above using the press-to-slide top filling system with a child-proof safety lock and improved sealing. You have to press the button and slide the top cap in the right way to expose the filling port, enhancing the security of use and ending juice leaking.
SMOK TFV18 Tank has two newly designed replaceable meshed coils: 0.33ohm TFV18 Meshed Coil and 0.15ohm TFV18 Dual Meshed Coil. These brand-new coils are made of nickel-chromium alloy and organic cotton and have a large mesh design to promote the fastest and most uniform heating and optimize flavor. This makes TFV18 a high-performance atomizer and requires a lot of air cooling. This is achieved by a particularly high tank base, which allows the maximum amount of air to reach the coil. In addition, the TFV18 Tank utilizes the excellent conductivity of copper and arranges 5 copper braces on the base to effectively transfer power to the coil for circular and rapid heating. SMOK TFV18 Tank also has an adjustable bottom airflow system, allowing you to alter vapor flow for more control over vapor production and the tightness of inhaling. Flexibly change the taste between MTL and DL.
Features and Specifications:
Size: 31.6mm*66.3mm
Stainless Steel and Pyrex Construction
7.5ml E-Liquid Capacity
Press-And Slide Top-Fill System
510 Threaded
Output Wattage: 80-140W (Recommended at 100-110W)
TFV Meshed 0.33ohm Coil
TFV Dual Meshed 0.15ohm Coil
Press-Fit Coil Installation
Dual Slotted Bottom Airflow Control Ring