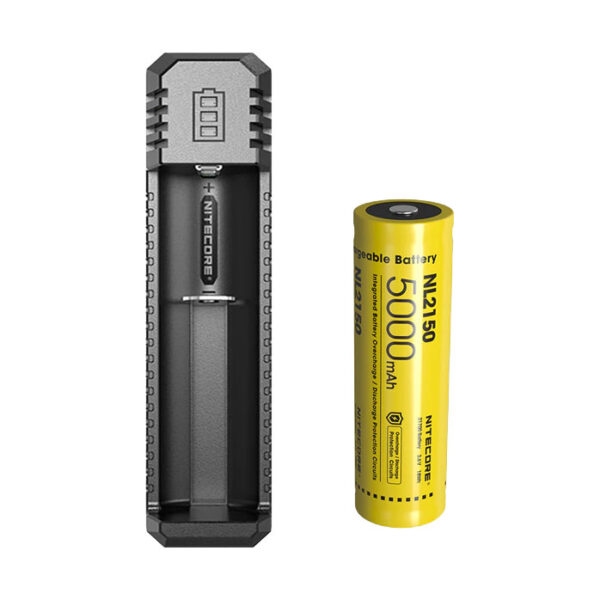 Specifications:
Input: DC 5V/1A 5W
Output Voltage: 4.2V±1%
Output Current: 800mA (max)
Compatible with : Li-ion/IMR: 10340, 10350, 10440, 10500, 12340, 12500, 12650, 13450, 13500, 13650, 14430, 14500, 14650, 16500, 16340 (RCR123), 16650, 17350, 17500,17650, 17670, 18350, 18490, 18500, 18650, 20700, 21700, 22500, 22650, 25500, 26500, 26650
Maximum Brightness: 5
Dimensions: L-4.82″xW-1.15″xH-1.26″
Weight: 1.43oz
Description
Powerful and compact, the NITECORE UI1 is a single-slot portable USB Li-ion battery charger capable of reaching a maximum charging current of 800mA and supports 18650, 18350, 20700, 21700 and various types and sizes of lithium batteries. Its power indicator provides users with real-time battery level and charging status. It also provides multiple charging safeguards to prevent reverse polarity, overcharging, and overheating.
The UI1 features a micro-USB port compatible with various power sources like power banks, solar panels and USB adapters for quick and efficient charging. Weighing less than 1.43 ounces, the lightweight design of the UI1 allows you to carry this charger everywhere you go. Measuring 4.82 inches, the UI1 fits comfortably in the palm of your hand and is portable for outdoor applications.
POWERFUL CHARGER -The NITECORE UI1 reaches a single slot maximum charging current of 800mA when using 3.7V rechargeable batteries.
MICRO-USB COMPATIBLE – Compatible with multiple USB inputs including solar panels, adapters, and power reservoirs for quick and efficient charging.
INTELLIGENT CHARGING – The UI1 is equipped with intelligent charging mode selection that automatically adopts the optimal charging modes for batteries.
LIGHTWEIGHT AND COMPACT – Weighing 1.43 ounces and less than 5 inches in length, the lightweight and compact size of the UI1 allows you to carry it with you on the go.